Upskill Your Entire Workforce With An Engaging Learning and Development Software
Supercharge your teams with a learning experience via an intuitive L&D software that covers over 100 in-demand technical, soft and life skills.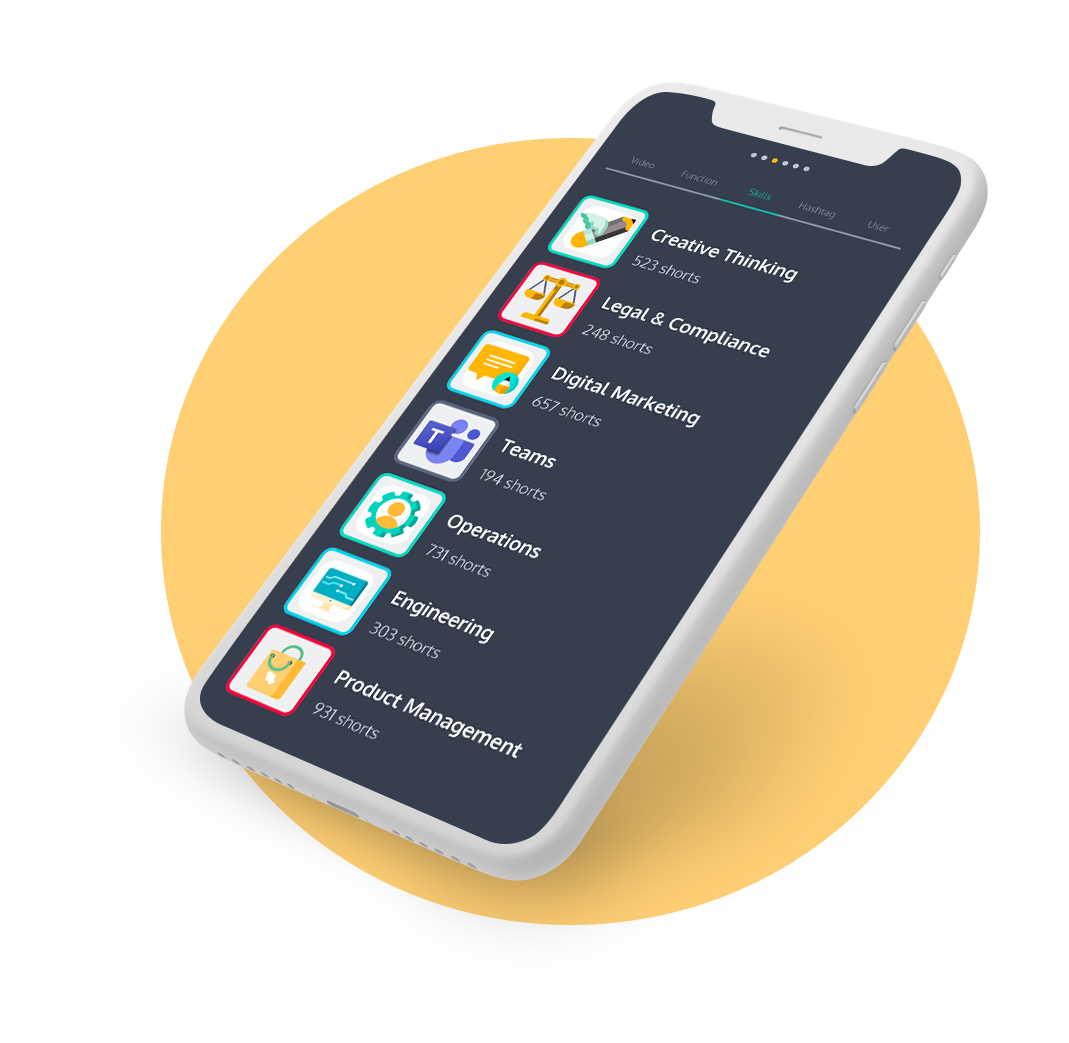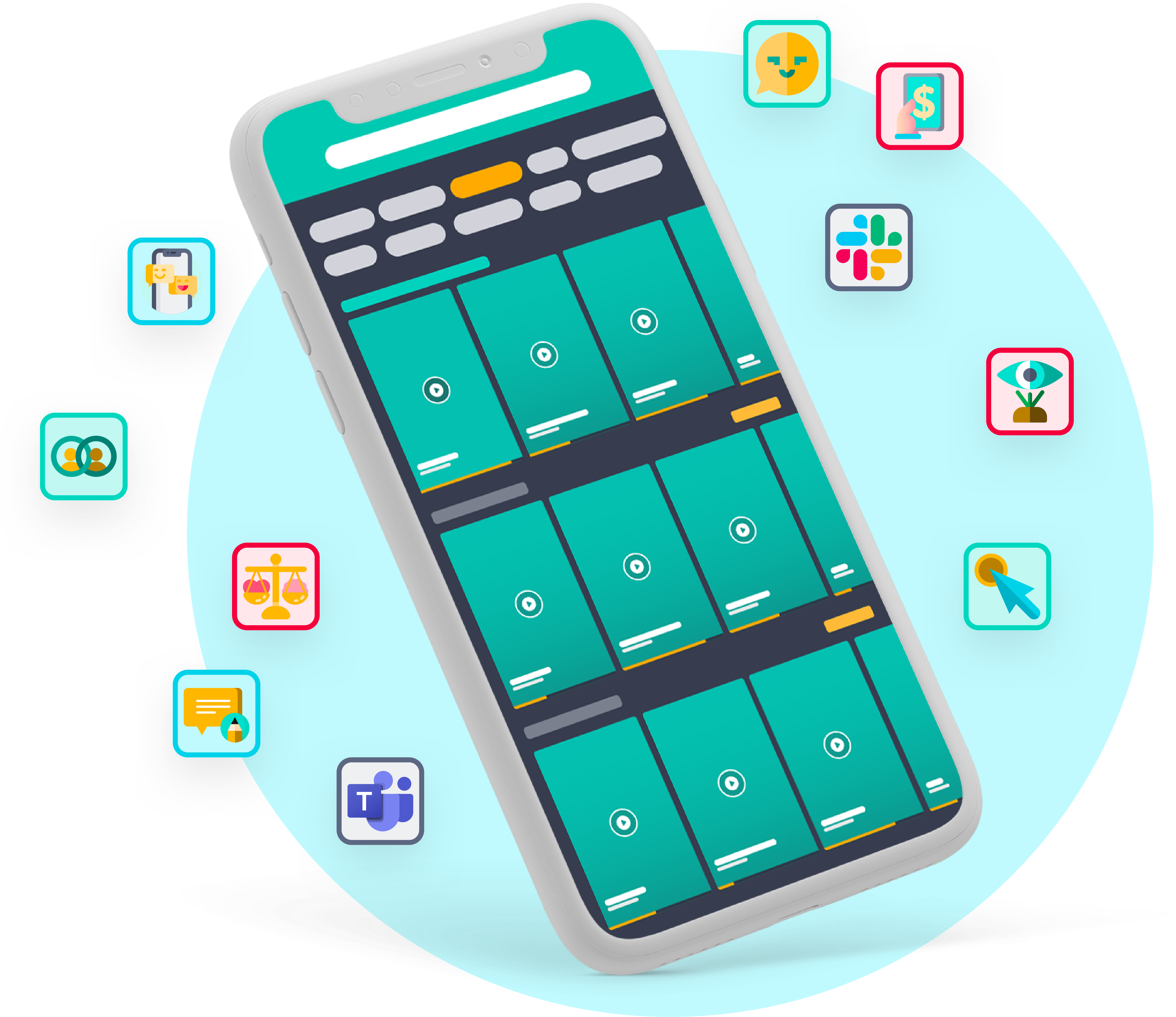 100+ Hard, Soft and Life Skills
Our mission is to help you build the best organisation you can.
That means helping your employees develop in every area of their lives. Access micro-lessons on our learning and development software covering all aspects of employee development and business success.
Hard skills training (eg. Marketing Strategy, Sales Process, UX Design)
Soft skills training (eg. Collaboration, Communication)
Life skills training (eg. Mental Wellbeing, Goal Setting)
Tools Training (eg. Excel, Powerpoint)
Collaboration & Peer-To-Peer Learning
Online learning shouldn't be a lonely affair.
The 5Mins L&D software enables deeper learning through collaboration and knowledge sharing features that let you connect with colleagues and share what you've learned with them.
Social features such as a company-wide Social Feed keep employees and entire teams motivated and engaged with their growth.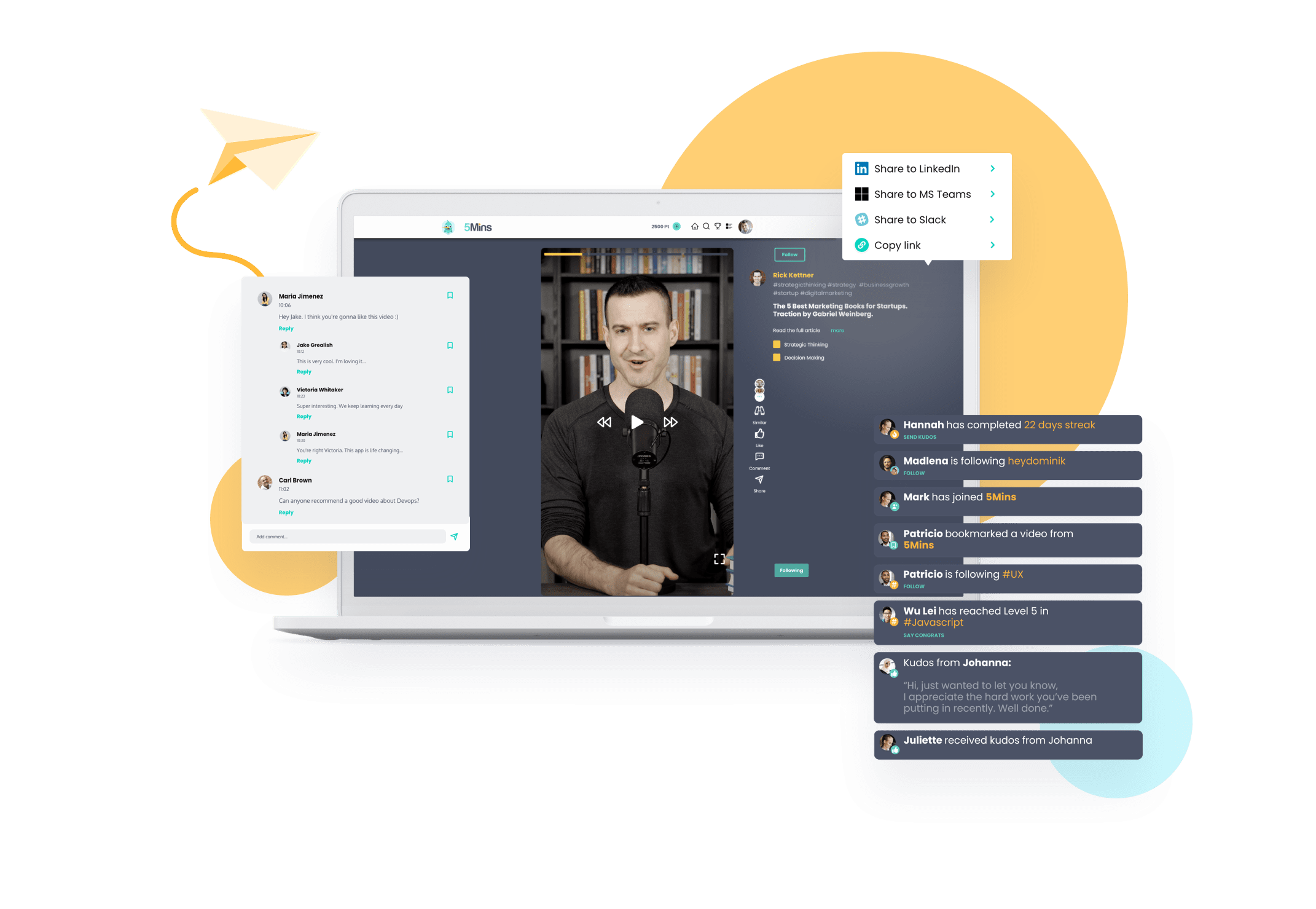 Deploy Company-Wide Learning Initiatives
The 5Mins L&D software combines the best micro-lessons to form knowledge-packed playlists that's more memorable than an hour-long course.
With our curated Playlists, employees can access deeper learning on hundreds of topics such as New Manager Development and DEI Training. You can go further and create custom playlists based on team priorities and address the most relevant topics for your organisation.
Why Get Your Learning and Development Software from 5Mins?
If you're looking for an effective way to promote learning and development in your workplace, 5Mins has the perfect solution. With 5Mins L&D software, you'll be able to deliver engaging and interactive training experiences that will boost performance, motivation and engagement among employees.
5Mins is a one-stop software for all your organisational L&D needs with a range of features including personalised learning paths and a gamified micro-learning library across key hard, soft and life skills. The user-friendly online platform is easy to use, enabling your organisation to learn through carefully curated micro-lessons, tailored to every learner's role, function and aspiration. Plus, our comprehensive analytics dashboards provide valuable insights so you can analyse learning performance against objectives.
You'll have access to cutting-edge technology that makes delivering and tracking learning programmes fast and simple.
We know how important it is for businesses to get results quickly – that's why our learning and development software offers state-of-the-art micro-learning to help manage learning programmes effectively while also delivering value back into your organisation in the form of improved employee knowledge and skill set.
Frequently Asked Questions About Learning and Development Software
Learning and development can be incredibly beneficial and vital for growth professionally. There can also be positive takeaways towards your personal life.
Some of the key benefits include:
Developing new skills that can help in your current role such as problem solving, listening and analysis
L&D can open up opportunities to take on more challenging positions in the future
Improving knowledge base and staying abreast with trends helps build one's confidence, allowing them to feel more secure in their goals
Learning helps with boosting creativity which can benefit many areas of life, including career advancements
Being able to recognise points of improvement can lead to valuable self-reflection which results in personal growth
Taking the time to learn something new is a great way to foster long-term success in any field!
Learning and development (L&D) software provides a platform for organisations to streamline their training programme. This type of software's main purpose is to increase knowledge and skills within the organisation.
By utilising an L&D software, companies can easily create development plans, track advancement of employees, and assess overall effectiveness of their learning initiatives. It also helps save time by consolidating all employee learning data into one place.
A learning and development software like 5Mins also offers social features such as Social Feed to keep employees and teams engaged while increasing collaboration and knowledge sharing opportunities. The ability to offer personalised learning paths and skills-based microlearning to users makes this L&D software a versatile tool for any organisation looking for ways to improve its training process.
Both in Singapore, as well as globally, learning and development is playing a more significant role in organisations.
Companies that focus on learning and development provide their employees with the necessary support for continuous growth and professional development. This can help to retain employees and keep morale high. Employees will have access to the most up-to-date research and resources in order to hone their skill set.
Employers can enable learning and development initiatives within their organisations, with software such as 5Mins offering micro-lessons on a wide range of topics. The result is a more skilled, knowledgeable pool of workers whose performance will better be able to meet the goals of the company.
Investing in L&D tools such as a software platform for employees to utilise has been found to greatly increase productivity. This in turn provides gains for businesses in terms of both efficiency and cost-savings. Furthermore, considering that employee satisfaction directly affects customer satisfaction, companies that invest in this area are ultimately gaining a competitive edge over their competitors.